West Africa`s - Ghana`s Kotoka International Airport (IATA: ACC, ICAO: DGAA) in Accra, is Ghana's premier international airport and has the capacity for large aircraft such as the Boeing 747-8 (example BA).
---
---
Accra, Kotoka International Airport Ghana (West Africa)
---

Accra Departures and Arrivals

See below Airlines and departure and arrival times, Accra Airport
Kotoka International International Airport, Accra

The airport is operated by Ghana Airports Company Limited (GACL), which has its offices on the airport property. GACL was established as a result of the decoupling of the existing Ghana Civil Aviation Authority (GCAA) in line with the modern trends in the aviation industry.

The airport company was registered in January 2006 and commenced trading on 1 January 2007.


Advertisement

The airport company is tasked with the responsibility for planning, developing, managing and maintaining all airports and aerodromes in Ghana.

Namely - Kotoka International Airport (KIA) and the International Airport Kumasi (Ashanti region),
Tamale International Airport (Northern region),
the regional airports at
Sunyani (Brong Ahafo region),
Wa airport (Upper West region), as well as airstrips of Navrongo (Upper East region) and
Sekondi Takoradi (Western region).
---
---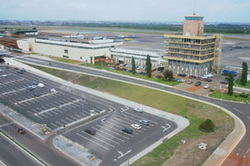 Visiting in Ghana
- Travel Advise
Kotoka International Airport serves as the aviation hub of the West African sub-region. In 2011, the airport saw 1.784 million passengers. It presently serves as a base for domestic operators Africa World Airlines, Starbow Airlines, fly540, and Antrak Air (Ghana International Airlines is in planing, again).
Kotoka Airport also houses the offices of the Civil Aviation Authority (GCAA).
Please be aware: Foreign travelers, (not Ghanaians) need an valid VISA. Hotel booking or 2 valid addresses in Ghana. Also an must have: Yellow Fever, Hepatitis A & B protection (Alone for your own health, more than recommended). Recommended: Malaria protection and if possible prophylaxes, Travel Insurance (Hospital bills!). Must have: A valid return ticket. Exempt: Transit Travelers.
There are embassies of Ghana in: London, Berlin, Paris, Tokyo, Washington/New York, Rom, and in many other countries. It is not permitted, to take Ghana Cedis (Money of Ghana), out of the country. Value items need to be declared, before entering Ghana. (Laptop, Camera etc.)
For more
tourism informations`s, please see ghana-net.com
(new window)
---
Calling and Internet in Ghana - Please Read Here More About (New Window)Starbow Airline to operates Accra - Sunyani

7/7/2015

The executives of Local airline Starbow has announced to operate in Sunyani of Brong Ahafo Region, which will begin a 4x weekly Sunyani - Accra on 10th July 2015.

The Chartered Institute of Marketing Domestic airline of the Year, Starbow is currently operating 39 flights a week to the three Ghanaian destinations from its base at Kotoka International Airport, namely Kumasi, Takoradi and Tamale...

Read More * See also: Sunyani Regional Airport

Works begin on new Int'l terminal at KIA in April

Source: myjoyonline.com / 17.03.2015 - Construction works on a new terminal at Kotoka International Airport (KIA) are set to begin by next month. The terminal which will be completed December 2016 will handle international passengers and flights at Kotoka. The construction has been influenced by the increasing number of international flights operating out of the airport which has put pressure on facilities at KIA. -

Read More

-

---
Embraer ERJ 145LR aircraft, Accra, Kotoka International Airport, Africa World Airline, Ghana - licensed under the Creative Commons Attribution-ShareAlike 3.0 License.

Night flights - Commencement of night flights between Accra and KumasiPassengers arriving at the Kotoka International Airport from abroad, usually late in the evening, can now connect a flight to Kumasi to be with their families the same day. Business travellers can now fly into Accra from Kumasi, spend the whole day transacting their business, and fly back to Kumasi as late as 10 pm.

Indigenous operator Africa World Airline commenced night flights between Accra and Kumasi, January 2015, and has since been recording an appreciable load factor. The airline has been recording a load of about 44 passengers in its

Embraer ERJ 145LR aircraft

that can seat up to 50 passengers.

Kevin Markette, Country Manager for Lufthansa said "when we talk about domestic transfers, up until very recently we have not had any domestic flights operating at flight times that connect with us. This has changed and we are quite excited.

"With regard to transfers from international flights onto our flights, the transfer facility at Kotoka is not yet very streamlined; it is a bit of challenge but it's possible.

One of the major challenges is that there is not yet a baggage transfer facility for these flights. This requires a passenger to physically enter Accra with a transit visa, get through immigration, collect his baggage and re-check in.

- Read More At Our News Pages
---
---
---